Disclosure: This post may contain affiliate links. This means I'll get a commission (at no extra cost to you!) if you purchase through my link. Please see my Disclosure page for more information.
It's almost the end of summer, which means fall is right around the corner! Most importantly, I can now cook all my favorite hot soups, stews and meals!
Soups, stews, and anything best served piping hot are some of my favorite things to eat. There's something about a nice warm meal that always reminds you of home, don't you think?
And nothing reminds me more of home than my family's Tex-Mex charro beans. I can eat a whole POT of these dressed-up, fancy pinto beans (over rice, of course!). Trust me, you will too after you try them 😉
Making the Beans
Note: While some people like to soak their beans overnight, you don't need to do that for this recipe. I personally never soak my beans and don't have a problem with cooking them.
Make sure you start with a large pot or dutch oven, like this one. Add your water, and wait for it to boil. Once your water is finally boiling, add some kosher salt. Don't be shy with your salt – but don't go overboard either!
Now you can go ahead and add the pinto beans. Set a timer for an hour an fifteen minutes but keep an eye on your beans and add extra water or salt if you feel like they need it.
Important! There's a big difference between the saltiness in 1 tbsp in kosher salt vs. table salt vs. sea salt. If you don't have kosher salt and plan on using table salt, use less salt than 1 tbsp. You can always add more if you need it!
Adding the Good Stuff
While your beans are cooking, get started on frying your bacon. I like to cook my bacon on the stove but you can also pop it in the oven on a cookie sheet. Regardless, make sure you reserve a bit of your bacon grease to cook the rest of the ingredients. (Yes, bacon grease! It's amazing, and adds depth to the beans).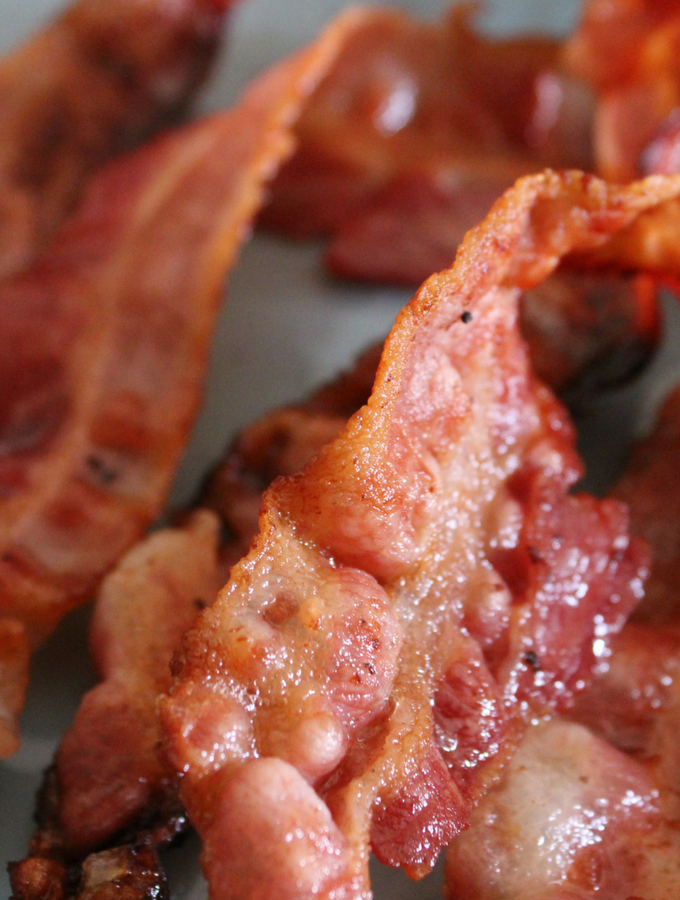 After your bacon finishes cooking, starting prepping your veggies, chop your bacon, slice the hot dogs and cook everything in a large skillet over some bacon grease. Cook until everything starts to sweat, and the onions start turning translucent. Set aside until your beans are cooked most of the way through. When your beans are soft but not mushy (at about the hour and 10 mark), add everything into the bean pot.
Simmer for about 5 minutes and you're done!
I like to eat these beans over rice, but they taste amazing with some bread for dipping in the bean soup as well!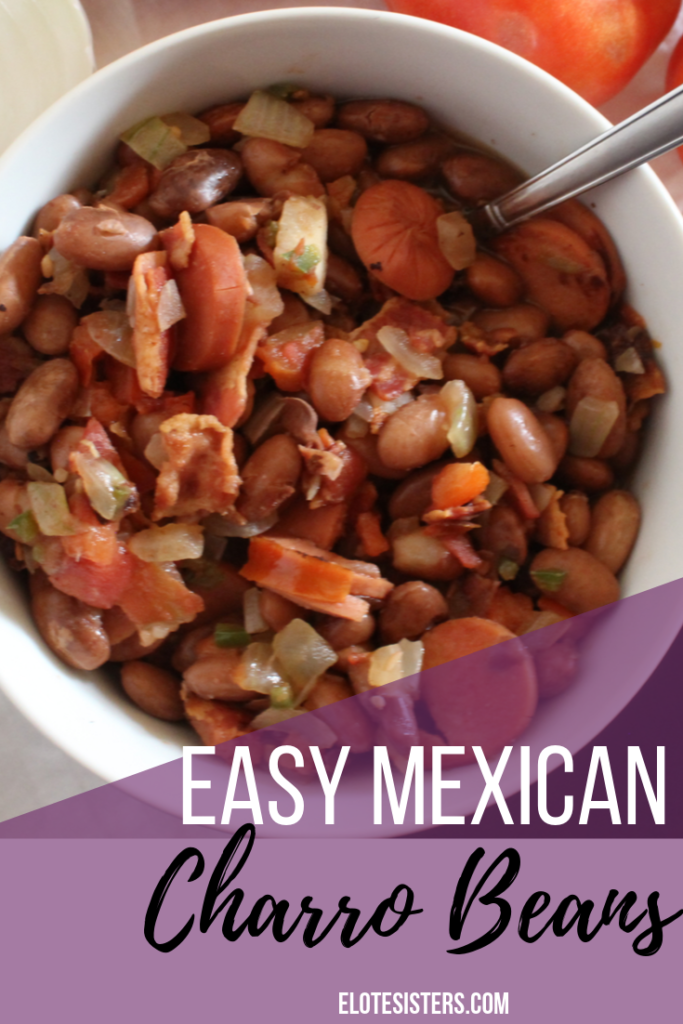 Charro Beans
Delicious, rich and hearty pinto beans cooked with bacon and spices makes for a filling main meal or as a side dish.
Ingredients
10

cups

water

1

cup

pinto beans

1

tablespoon

kosher salt

7

strips

bacon, or about half a packet

1

cup

diced white onion

about 1 small onion, or 1/2 large onion

1/2

cup

diced roma tomato

about 2 small tomatoes

1.5

tablespoon

diced jalapeno

2

hot dogs
Instructions
Add water to a large pot and set over high heat until water starts to boil

Once water starts to boil, add beans and salt

Reduce heat so that the beans are slowly simmering, uncovered

As your beans cook, start frying your bacon on a hot pan

As your bacon fries, start prepping your onion, tomato, jalapeno, and hot dogs (hot dogs should be sliced into round thin slices). Set aside.

As your bacon finishes frying, set aside. Toss most of the bacon grease from your pan, leaving only a light coating of grease on the pan.

Coarsely chop your bacon.

Return your bacon greased pan to the stove over medium heat, and add onions, tomatoes, hot dogs, jalapenos and bacon. Saute for a few minutes until everything begins to sweat. Set aside.

When your beans are cooked and are turning soft, add your sauteed ingredients. Cover and simmer for about 5 minutes.
Notes
Adjust the jalapeno to your preferred level of spiciness. You can also omit the jalapenos altogether and just add your favorite hot sauce when you serve your beans. 
You can omit the hot dogs. I like to add it since that's how my mom made it, but it tastes just as good without them! 
Other Mexican Dishes You May Like